Putin Calls U.S. Syria Strike Aggression, Stops Air Cooperation. Russian President Vladimir Putin condemned American air strikes on Syria launched in response to an apparent chemical attack as an act of "aggression against a sovereign state" and suspended an agreement with the U.S. to avoid hostile incidents in the skies above its Syrian ally. The sudden escalation between the two nuclear-armed powers catapulted tensions to the highest level since Donald Trump took office in January. The Kremlin said the U.S. action will cause "considerable damage" to ties between Moscow and Washington. The U.S. said it had worked to minimize the risk of causing Russian casualties in the attack, which killed six Syrian servicemen.

Russia suspends accord with U.S. to avoid hostile incidents

Russia defends Assad against accusations of chemical attack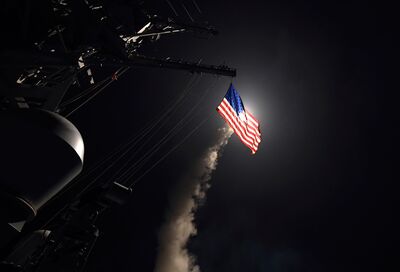 The Shayrat Airfield was hit early Friday morning by 59 Tomahawk cruise missiles fired from the USS Porter and USS Ross, two Navy destroyers in the Mediterranean Sea in what the U.S. said was a limited strike against the airbase from which the suspected chemical attack was launched. Trump's military move, which he said was a necessary response to an "affront to humanity" after more than 70 people died in a poison gas attack in northwest Syria on Tuesday, puts the U.S. and Russia into a risky stand-off as Moscow stands behind Assad after six years of civil war.
'A Pretext'
Russia suspended a cooperation pact with the U.S. aimed at avoiding incidents between the two countries' planes in the crowded airspace over Syria by establishing direct hotlines between their militaries. The chemical attack was "used as pretext for a demonstration of force," the Russian Foreign Ministry said in a website statement announcing the suspension.
"This is very risky," said Andrei Kortunov, head of the Russian International Affairs Council, a Moscow-based research group set up by the Kremlin. "This agreement helped to avoid direct military confrontation in this difficult situation." Syria denied the chemical attack and Russia's defense ministry has blamed the rebels, saying a Syrian air strike hit a chemical stockpile controlled by the armed opposition. The Kremlin said Friday that the Syrian government doesn't have any chemical weapons stored. U.S. Secretary of State Rex Tillerson, who is expected to meet Putin on his first visit to Moscow next week, blasted Moscow's support for Assad, saying "either Russia has been complicit or Russia has been incompetent in its ability to deliver" on a 2013 deal in which it guaranteed that Syria gave up its chemical weapons.
The Pentagon notified Russia in advance of the strike, and U.S. military planners took care to minimize casualties among either Russian or Syrian forces, according to Captain Jeff Davis, a Defense Department spokesman.
Russian Risk
Russian forces so far have not been placed at risk by the U.S. actions, said Frants Klintsevich, the deputy head of the defense and security committee in the upper house of parliament.
"But if we see a threat to our bases or our servicemen, we of course will put the airspace in order," he said by phone. Russia has its most advanced S-400 air-defense systems in Syria to protect its bases, which include a naval facility and an airbase. Russia sees the U.S. action as a "symbolic gesture by Trump to show that the U.S. is back in the game, and that U.S. and not Russia is a real superpower," said Ruslan Pukhov, head of the Center of Analysis of Strategies and Technologies in Moscow, which advises the Defense Ministry.
"He needed to react to the chemical-weapons situation. He also sends a message to Putin — you fired so many of your Caliber missiles and now your workers are sweating to replace them, while we can waste dozens of our missiles on a simple gesture," Pukhov said by phone, referring to the cruise missiles Russia has fired at targets in Syria.