Russia's economy shrank the most since 2009 after a currency crisis jolted consumer demand, while a selloff in oil threatens to drag the country into a deeper recession.
Gross domestic product contracted 4.6 percent in the second quarter from a year earlier after a 2.2 percent decline in the previous three months, the Federal Statistics Service in Moscow said on Monday, citing preliminary data. That was worse than the median forecast for a 4.5 percent slump in a Bloomberg survey of 18 analysts. The Economy Ministry had projected that output shrank 4.4 percent in the period, calling it "the lowest point" for Russia.
The rout on commodities markets has overshadowed the first signs of stabilization in Russia by hammering the ruble and shaking a country that relies on oil and gas for about half of its budget revenue. The nation is enduring its first recession in six years after last year's currency crisis and a surge in inflation eroded consumer buying power as sanctions over Ukraine choked access to capital markets.
"While second-quarter growth surprised on the downside, perhaps far more importantly is the fact that the outlook for the Russian economy has deteriorated so far in the third quarter," Piotr Matys, a London-based foreign-exchange strategist at Rabobank, said by e-mail. "The central bank may have to pause the monetary policy easing cycle at a time when local banks are still cut off from external sources of funding."
Rate Path
Forward-rate agreements are signaling 23 basis points of increases in borrowing costs during the next three months. The Bank of Russia has lowered its key interest rate by a cumulative six percentage points to 11 percent in five steps this year.
The ruble has depreciated about 43 percent against the dollar in the past 12 months, the worst performance globally, according to data compiled by Bloomberg. It traded 1.7 percent stronger at 62.9620 versus the dollar as of 8:16 p.m. in Moscow.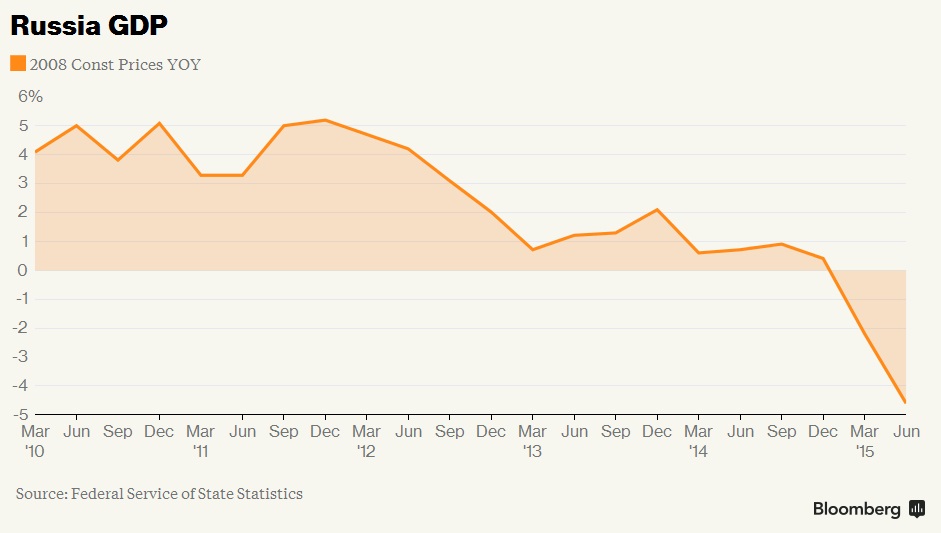 The central bank said last month that it may worsen its forecast for a 3.2 percent contraction this year after domestic demand fared worse than anticipated in the first six months. Russia will endure a two-year economic contraction if crude prices remain at $60 through 2016, including a 1.2 percent slump next year, according to the central bank.
Crisis Spillover
A crisis in consumer demand is spilling over to industry as low oil prices ripple through the economy. Urals, Russia's export blend of crude, averaged $57 in the first half, down almost 47 percent from the same period a year earlier, according to the Economy Ministry. Industrial production fell for a fifth month in June, the longest slump since 2009, and manufacturing unexpectedly deteriorated in July.
"The economic prospects for the coming quarters look pretty grim," Liza Ermolenko, an analyst at London-based Capital Economics Ltd., said by e-mail. "Industry appears to have been a major cause behind the deterioration in the second quarter, having gone from being a relative bright spot in the first quarter."
A renewed slide in commodity prices may put the central bank in a bind if it destabilizes the ruble and reignites inflation. Consumer prices rose 15.6 percent in July from a year ago, down from a 13-year high of 16.9 percent in March. The central bank forecasts inflation at 10.8 percent by year-end and says its 4 percent target will be reached in 2017.
"Faltering oil prices have increased the risks for the expected economic improvement in the second half," UralSib Capital analyst Alexey Devyatov said in a report before the data release. "Sharp swings in the ruble rate have hit consumer demand and capital investment." Bloomberg