U.K. Mergers at Record High, IPOs at Low as Brexit Begins. The first quarter of this year was the busiest for mergers by volume and the slowest for initial public offerings since the same period in 2012, when Greece's debt crisis weighed on investors and boards. This time round the U.K. is the center of attention. British Prime Minister Theresa May this week officially triggered talks to break away from the European Union.
Uncertainty makes companies 'think harder about M&A'

Lower IPO volumes in the quarter reflected across Europe
Companies were involved in deals totaling more than $93 billion this quarter, which included several U.K. businesses buying assets outside the country. That's up from $37.1 billion in the same period last year. While uncertainty was fertile ground for corporate combinations, it had the opposite effect on appetite for new stock in the equity markets. Issuers raised a mere $1.7 billion from 11 IPOs, down from $2.38 billion, data compiled by Bloomberg show.
"Over the next two years there will be a period of heightened uncertainty and that will make companies think harder about M&A to generate growth," said Ed Byers, co-head of U.K. investment banking at JPMorgan Chase & Co. "We expect to continue to see plenty of deal activity in the U.K. as companies adjust to the new reality and determine how to take their businesses forward."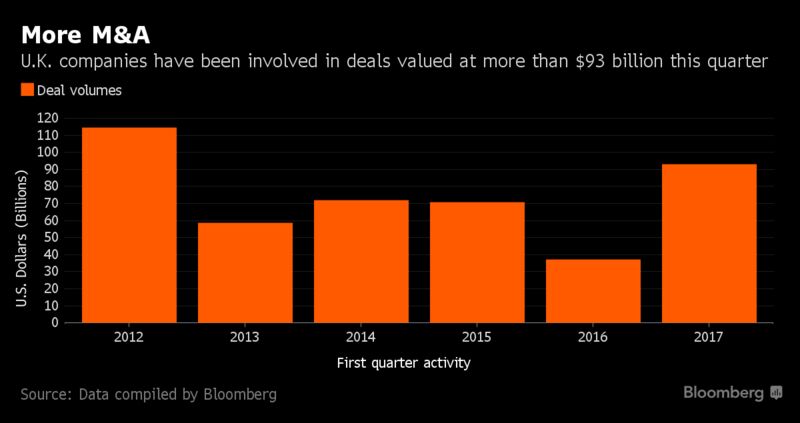 The biggest deal by a U.K. company this year was Reckitt Benckiser Group Plc's purchase of Mead Johnson Nutrition Co. for nearly $18 billion including debt. The numbers would have been a lot higher if Kraft Heinz Co. had been successful in its $143 billion bid for London-listed Unilever. Appetite for U.K. companies with a global presence remains strong, with some acquirers hoping to take advantage of an approximately 16 percent decline in the pound against the dollar since Britain voted to leave the EU in June.
European IPOs
Low levels of activity in the U.K. IPO market were reflected across Europe as well, with this first quarter being the slowest for the share sales across the continent since a similar period in 2012.
"There has been a heightened awareness of risks among investors as we get closer to certain political and macro events," said Edward Sankey, head of equity syndicate at Deutsche Bank AG. Buyers have been more price sensitive on stock sales as a result, he said.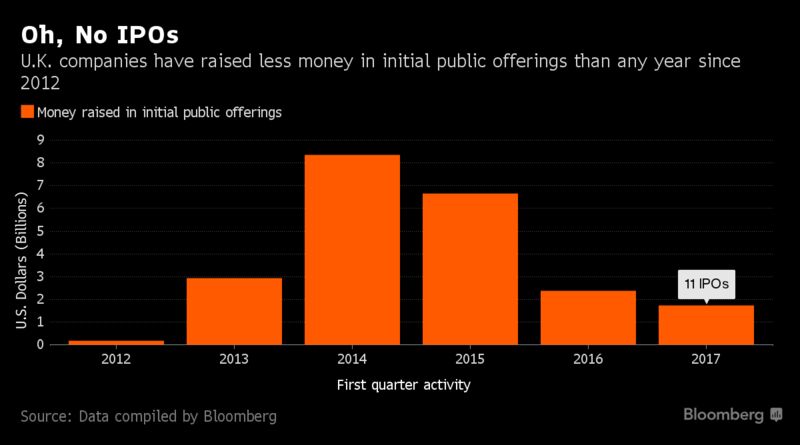 The largest IPO in the U.K. this year was that of investment company BioPharma Credit Plc, which raised $762 million, data compiled by Bloomberg show. Deal volumes are also low because private equity exits, which powered the IPO markets in the last few years, have dried up, Sankey said. As the U.K. prepares for years of negotiations to strike a new deal with Europe and elections loom in the key economies of Germany and France, companies across the continent are using dealmaking as a way to take their businesses forward. Across the whole of Europe, M&A this quarter rose to more than $230 billion, the highest first-quarter volume since 2007.
The European Union on Friday released draft guidelines for Brexit talks to the bloc's 27 other capitals. EU President Donald Tusk said negotiations over future commercial ties would not take place until "sufficient progress" was made resolving issues such as borders and budgets. May was also told any transitional period to ease the exit would require the U.K. paying money and accepting EU laws.
"While the outcome of the Brexit negotiations is unclear, most companies are not putting their plans on hold due to political uncertainty," said Martin Todd, a European equities portfolio manager for Hermes Investment Management. "Negotiations are likely to be protracted, and ultimately Brexit is less of a talking point than one might expect.