Putin Rejects Tit-for-Tat After U.S. Expels 35 Russian Diplomats. Russian President Vladimir Putin decided against a tit-for-tat retaliation for outgoing President Barack Obama's expulsion of 35 Russian diplomats from the U.S. over cyberattacks allegedly backed by the Kremlin and aimed at interfering with the 2016 election campaign. "We won't send anyone away," Putin said in a statement from the Kremlin after his Foreign Minister Sergei Lavrov asked to approve a mirror expulsion of U.S. diplomats in a televised meeting on Friday.
Lavrov asked Putin to approve expulsion of 35 U.S. diplomats

U.S. ejected Russian diplomats, imposed sanctions over hacking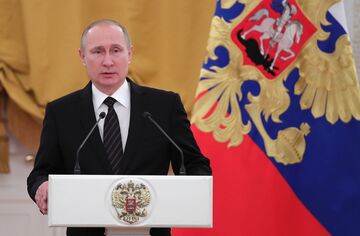 The Russian government accused the outgoing U.S. administration of spending its last weeks in power trying to sabotage President-elect Donald Trump's pledge to seek better relations with the Kremlin. Trump has said he wants to cooperate with Putin in fighting terrorism and may review sanctions that Obama imposed over Russia's involvement in a conflict in Ukraine. Lavrov proposed the expulsion of 31 U.S. diplomats in Moscow and four in St. Petersburg, to match the 31 Russian embassy officials in Washington and four consular staff in San Francisco that were ordered to leave the country a day earlier.
'Grizzly Steppe'
Obama described the 35 Russians ejected from the U.S. as intelligence operatives working under diplomatic cover. The U.S. also imposed sanctions on top intelligence officials and said it shut down two Russian compounds — one in Maryland and another in New York — used for "intelligence-related purposes." Russia has denied it was behind the hacking in the U.S. As part of the U.S. administration's response, the FBI and Homeland Security Department also released a report with technical evidence intended to prove Russia's military and civilian intelligence services were behind the hacking and to expose some of their most sensitive hacking infrastructure. The report dubs the Russian operation "Grizzly Steppe."
"All Americans should be alarmed by Russia's actions," Obama said in a statement on Thursday. "These data-theft and disclosure activities could only have been directed by the highest levels of the Russian government." Obama's actions put Trump in a bind less than a month before his inauguration. Reversing course would effectively reject the findings of U.S. intelligence agencies and put him at odds with the Republican leaders in Congress who called the sanctions a necessary step. Trump signaled a possible shift from his previous dismissals of Russian involvement in the hack, saying in a brief statement that while "it's time for our country to move on to bigger and better things," he'll meet with intelligence officials next week.
Trump's Skepticism
Trump has repeatedly scoffed at the conclusions of U.S. intelligence agencies that Russia was behind the pilfering and steady release of e-mails from Democratic National Committee and party officials in order to damage the campaign of Hillary Clinton. Trump once said the hacking could have been the work of "somebody sitting in a bed someplace" and told reporters Wednesday that "we ought to get on with our lives" instead of rehashing the cyberattack. Russia is hopeful that it can ride out the storm and put ties with the U.S. on a better track once Trump takes office, said Fyodor Lukyanov, chairman of the Council on Foreign and Defense Policy, a Kremlin foreign-policy advisory group.
"Russia views these not as U.S. sanctions, but Obama sanctions, so he will go and we can both decide that we don't bear any responsibility for the actions of a jackass," Lukyanov said.
Technical Evidence
A White House official, briefing reporters on condition of anonymity, said Obama's successor could reverse the executive actions but suggested Trump may not want to be in the position of letting Russian spies return and giving Moscow a green light to meddle in European and U.S. politics. The U.S. has indications that Russia will try to interfere with elections on all levels, the official said. Among those targeted in the sanctions announced by the Treasury Department were the GRU, Russia's military intelligence agency, and the Federal Security Service, or FSB, the main successor agency to the KGB. Cybersecurity experts in the U.S. have linked the GRU to the hacking of the Democratic National Committee and party officials through a group they have nicknamed APT 28 or Fancy Bear. The U.S. also is sanctioning several cyber companies associated with them.
In addition, two Russians accused of commercial theft and fraud using computer networks were hit with sanctions. The two, Aleksey Belan and Evgeniy Bogachev, also are on the FBI's "Most Wanted" list.
Congressional Hearings
Despite Trump's admiration for Putin, members of Congress from both parties have expressed alarm about the campaign hacking and praised the sanctions. "While today's action by the administration is overdue, it is an appropriate way to end eight years of failed policy with Russia," Republican House Speaker Paul Ryan said in a statement. Republican Senators John McCain and Lindsey Graham, who've been critical of Trump, said they would lead an effort in Congress to impose even tougher penalties on Russia. In addition to the hacking, Obama cited an "unacceptable level of harassment" of U.S. diplomats in Moscow by Russian security services and police over the past year. The sanctions and expulsions may be matched by covert countermeasures intended to warn Russia that the U.S. is able to breach its most sensitive computer systems, while preserving public deniability.
"These actions are not the sum total of our response to Russia's aggressive activities. We will continue to take a variety of actions at a time and place of our choosing, some of which will not be publicized," Obama said. U.S. relations with Putin's government have deteriorated over Russia's military intervention in Ukraine and in Syria to bolster President Bashar al-Assad. Russia on Thursday announced a cease-fire in Syria that was brokered jointly with Turkey, sidelining the U.S.
Sources: QGN, Bloomberg, Gulf Agencies.