The world's biggest oil buyer may be waking up from a seasonal slumber. China added 37 million barrels of oil to inventories in the first nine days of November, a rebound from September and October, when stockpiles fell by more than 120 million barrels, according to commodities intelligence firm Orbital Insight Inc. The drawdown coincided with China in October buying the least amount of foreign oil in a year, according to customs data.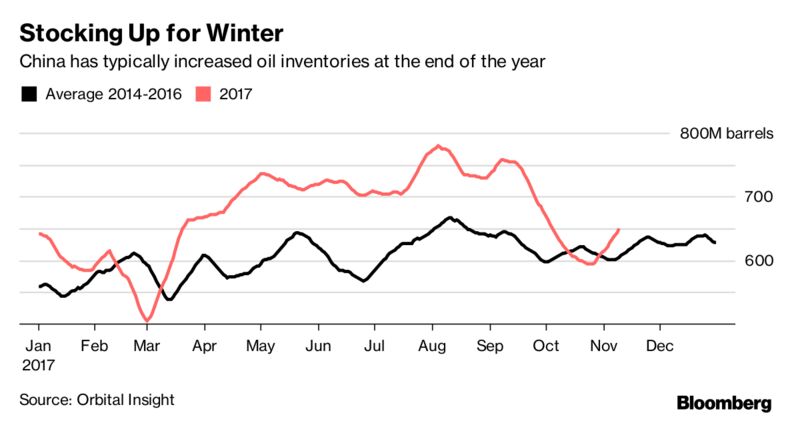 Orbital's analysis of China's seasonal storage patterns is a rare look into one of the more hidden aspects of the oil market, as China doesn't regularly report detailed inventory data. Instead Orbital uses satellite imagery to measure the levels of thousands of petroleum storage tanks throughout the country in order to assess inventory levels.
Such data can be vitally important to oil traders. For example, the U.S. Energy Information Administration's weekly releases of storage and other petroleum data can set off large amounts of trading and sharp price moves. Orbital is part of a growing number of firms using data from an armada of satellites to provide more accurate data about commodities and other economic trends.
Barclays Plc analysts said in a report last month citing data from Ursa Space Systems Inc. that if satellite findings are accurate and reflect broader activity in the Chinese oil sector, then the nation's oil demand may be underestimated and the global supply-demand balance is tighter than thought.
From 2014 to 2016, China on average increased oil inventories by 22 million barrels from the beginning of November to the end of December, according to Orbital data. Renewed buying from China, which this year has surpassed the U.S. as the world's largest oil importer, could be another tailwind for the resurgent crude market, which has seen prices rally by 40 percent since June.
Sources and  Photo-credits: Bloomberg